Event Information
Who Should Attend?
K-12 students, parents, educators, non-profit leaders, corporate leaders and government leaders with a vested interest in STEM.
STEMfest 2016 has something for everyone. Find out what it has to offer you!
Event Promo
Student Promo Poster


A Science Odyssey Week Event Partner

Venue

Miramichi Valley High School
345 McKenna Avenue
Miramichi, NB | E1V 3S9
Link to Google Map(link is external)
Food and Beverage
Local food trucks will be on-site should you wish to purchase your lunch. You are, however welcome to bring your own lunch. Microwaves are available in the cafeteria. 
STEMfest 2016
May 14, 2016 | 10am - 3pm
A free, exciting, all-day forum, that equally engages children, parents, and teachers, coupled with corporate, government, academia and non-profit executives alike, from STEM fields in Northern New Brunswick. 
About STEMfest 2016
It takes a community of teachers, mentors, parents and local leaders to nurture a child's curiosity of the STEM (science, technology, engineering and mathematics) fields. Linking science and mathematics taught in the classroom to real-life situations and carreers is an ongoing national challenge.
This year's STEMfest will help children discover new and exciting STEM activities. Elementary, middle and high school students will work with the team from Brilliant Labs through a wide range of fun and interactive robotics activities that incorporate everything from 3D printing to green screen video.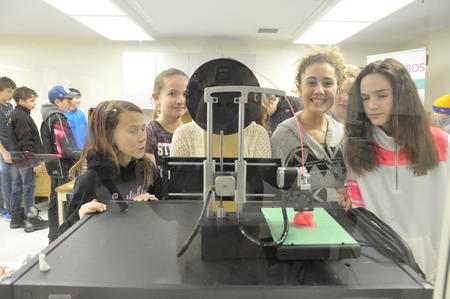 Quick Facts
This is our first STEMfest
ASD-N coordinates 4 Regional STEM Fairs at both Elementary and Middle/High School
Open to any students, parents, and teachers in ASD-N
Exhibitors and Presenters from the business, government, academia and nonprofit sector will be represented 
Golden Ticket Winner from ASD-N STEM Fairs will display their projects